Welcome to August's installment of our guide to what's happening in the world of films, fiction, comics and arts outside of the world of The Great Escape.
Indie Film Festivals

The Adventure Travel UK Film Festival, London (14th-16th August 2015) – devoted to the art of documentary filmmaking, this 3-day film festival is devoted to films both old and new on the topic of adventure!


Film4 Summer Screen at Somerset House, London (6 – 19 August 2015) – the quintessential outdoor film festival returns for it's 2-week stint, showcasing both brand-new films, people's choices and absolute classics. They also run a companion event of workshops and talks, Behind The Screen, with events catering for all tastes (including how Somerset House has been used as many a filming location!)

Film4 FrightFest 2015, London (27th-31st August 2015) – Back once again and expanded to four screens of terror, gore and dark comedy, FrightFest is the go-to event for the best in new, classic and cult horror film!
---
Comic Conventions

Preston Comic Con, Preston Guild Hall (1st August 2015) – A one-dayer up in Lancashire, this is the 2nd ever Preston Comic Con and with a packed list of attendees, looks to be worth visiting!

Dublin Comic Con, Dublin (8th-9th August 2015) –  Set across 3 floors of The Convention Centre, there is an excellent mix of Comics, Cosplay, Panels and TV and Movie stars in attendance (Billy West, Gates McFadden and Michael Rooker are just a few).
DemonCon X, Maidstone, Kent (23rd August 2015) – Back for it's 10th year and in the new venue of the Royal Star Arcade, this well regarded and constantly expanding comic convention is one event you won't want to miss!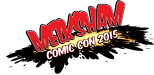 Melksham Comic Con, Melksham (29th-30th August 2015) – One of the best shows on the comic book circuit, it's no surprise that both ourselves and Hellbound Media (Table 38, both days) will be in attendance at this one. Come see us on Table 2 on Sunday!
---
Literary Events

Happy Days Enniskillen International Beckett Festival
, Enniskillen, Northern Ireland (23rd July-3rd August 2015) – The first annual festival to 'celebrate the work and influence of Nobel Prize-winning writer Samuel Beckett', and now in it's 4th year, there are many events about the man and his works over the one-and-a-half weeks.
Beyond Borders International Festival of Literature & Thought 2015, Innerleithen (22nd-23rd August 2015) – Both a political and geographical festival of wrting, Beyond Borders offers a fair selection of events on the topics of documentary and historical writing.

Edinburgh International Book Festival, Edinburgh (15th-31st August) – The event of the month is Edinburgh's annual festival devoted to all topics – from discussions on art and design to workshop events for kids. With over 700 events happening across the latter half of the month, there is an endless supply of things to do there from the world of writing – far more than you'll ever manage to do!
Keep an eye out on the site next Monday, where we'll tell you what's coming up in the world of The Great Escape over the coming month!