It's been a little while since our last update and we have lots to report on the post production front!
Second Draft Complete
As of this week, a second version of the film is going out for review by our team of consultants.
The new version takes into account much of the feedback we received from the previous round of consultation. We've made lots of changes to speed up and balance the pace of the film and get the total run time down to under 100 minutes.
As part of that process we shot extra inserts and material to emphasise the horror tone, add extra carnival imagery and fix issues which arose from the more drastic changes made in the new edit.
This won't be the final edit, but we hope we're getting close. We will of course be taking on board all of the new feedback we get and tweaking things here and there to improve it further still.
Film to be Scored by Hans Hess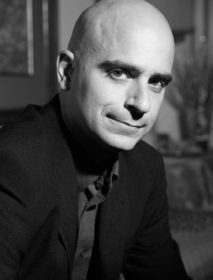 Now on to bigger news! We have engaged up and coming film composer and musician Hans Hess to score the film!
We're hugely excited to have Hans on board. Hans has studied music for film and television to the highest level and is now building a business in the field right here in our home city of Bristol.
From Hans' website:
I became a musician because I have always loved the magical power of communication that music is capable of. But it was the communication between music and moving image that added for me a very special excitement and power. When I first heard the soundtracks of composers such as James Horner, David Arnold, Jerry Goldsmith, Jesper Kid, Enio Morricone, Alan Silvestri and Hans Zimmer I knew that music composition for films, TV and multiple media was the medium I wanted to use to communicate.
I love creating a music narrative that blends beautifully not only with the images, but that can also communicate something about characters, about the story, about a culture, or about the world real or fantasised. My musical versatility in writing from orchestral scores to progressive metal and from atmospheric to electronic music made successful in films, adverts, theatre, audio brands, promos, self released albums and audio libraries.
You can find out more about Hans and his music on his website hanshessmusic.com
In the coming months we hope to be able to bring you some exclusive sneak peaks at the music as it is developed.
Behind the scenes – Interactive Location Map!
With our limited budget for set building, most of the film was shot on location. We cast a wide net in North Somerset to find the right locations for all the scenes. We shot in Portishead, Clevedon, Backwell, Weston-Super-Mare, Clapton in Gordano, Lower Failand, and Bristol.
You can explore all the locations though this interactive map!