Over the rest of 2015 we'll be attending a few comic conventions. If you've got tickets to any of the following, make sure you pop by our table and say hello!
For one day only we will be celebrating and sharing our love of comics. Cardiff Expo is all about showcasing the very best in independent comics from South Wales and beyond, their creators and their talent. Tickets are on sale now.
Melksham Comic Con – the little convention with a lot of power!
Melksham Comic Con is a non-profit event that celebrates and promotes comic books and sequential art in its many forms, from web comics, independent works, publishers, printers, retailers and so much more! We're the perfect convention for people who have never been to one, or want to see what it's all about – taking place in the heart of Wiltshire, surrounded by beautiful countryside!
Bristol Con – Saturday 26th September
BristolCon is a one-day convention organized by the BristolCon Foundation, a charitable foundation set up to support and promote speculative fiction writing, art and related activities in the South West.
Guests of Honour in 2015 will be writers Jasper Fforde and Jaine Fenn, with a possible artist GoH to be confirmed.
The convention will consist of panels and talks, an art show and small group sessions including kaffeklatsches and workshops. Books, comics and merchandise will be available in the dealers' room and authors will be available for book signings. There will also be a games room and other entertainment in the evening.
We'll be unveiling the first novel tie in to the Gabriel Cushing Series: Mime by Chrissey Harrison. Get a sneak peek and pre-order before the official release a few weeks later at Bristol Horror Con.
The Bristol Comic and Zine Fair celebrates the world of DIY and independent publishing. The fair brings together artists, writers, and publishers from across Bristol and further afield for a one-day market. 2015 will be their fifth year.
The expo will celebrate horror in literature, film, music, games and art. Expect traders, guests, cosplay competitions, workshops, gaming and more! Early Bird tickets are currently on sale at £6.66.
Join us for the launch of Mime by Chrissey Harrison. There will (fingers crossed) be drinks, nibbles and freebies.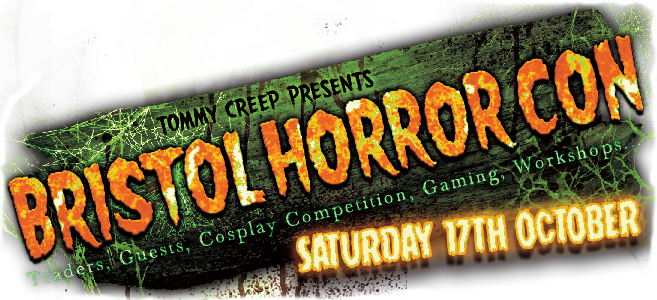 Also watch out for announcements about video screenings at our convention appearances and elsewhere later in the year.