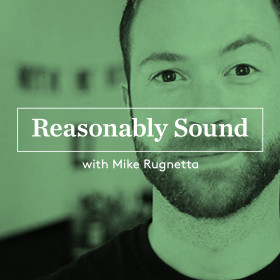 Continuing our podcast themed Follow Fridays for August, today we're recommending Reasonably Sound with Mike Rugnetta!
Running for just under a year, Reasonably Sound is a podcast celebrating complexities and awesomeness of audio, alongside the world surrounding noise. Not just for audiophiles, it is a self-proclaimed guide to the world of sound.
Covering such wide-ranging topics as why fireworks sound the way they do, subliminal messages, accents, why ASMR videos are so popular and the 'sound' of onomatopoeia in comics, the podcast hopes to make the idea of sound interesting to all, not just "sound people".
"So many of us listen to music and (hopefully) podcasts, we use our ears every day, but our visual sense is much more developed and attuned to the world" says Mike.
The episodes vary in length between 20 and 50 minutes, and are perfect for those who have an interest in the 'art' and 'substance' of sound.
For more information on Reasonably Sound, visit the Infinite Guest website, follow them on Twitter (@reasonablysnd) or find them on Instagram (reasonablysnd).
---
You can find Reasonably Sound, along with many other podcasts (including our own) on Podbay.fm – a podcast aggregator which collects together reviews, stats and more to help you find your next podcast. In addition, they offer apps for both Android and iOS so you can listen to podcasts on the go!