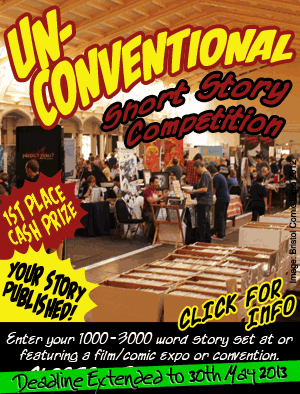 We're extending the deadline for our current writing competition to 30th May 2013.
Why? Well it's a writing competition about comic conventions and we have two lined up for May 2013. Bristol Comic Expo on the 11th/12th May and MCM London at the end of the month (yep, that's right, we'll going to the big one this time!) . So we'd like to give everyone a longer opportunity to celebrate the convention events by getting involved.
If you've already submitted an entry and would like to use the extra time to do some more work on it, go for it! Just resubmit your story with a covering note. For those of you rushing to get finished, you can stop panicking. Or, if you haven't started yet and want to take part, now you can.
The criteria are simple; submit a prose short story of 1000-3000 words set at or featuring a comic or other convention or expo. Your story can be any genre! Prizes include publication in Great Escapes, Volume 2 and a cash prize for first place. Visit our Competitions Page for all the details.