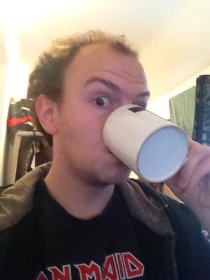 This week we welcome new comic series Business Bear to The Great Escape, the latest creation by artist, software developer and former actor Kristian Griffiths.
Long time fans of The Great Escape may recognise Kristian from such seminal works as 'Terror of the Killer Carnivorous Coat'.
Small-press people may recognise him from his work with Fallen Angel Media, which produced three comics.
We caught up with Kristian to chat about himself, Business Bear and several questions that may appear off-topic, but actually delve deep into the psyche of the man who likes drawing bears.
---
Rich Jeffery: Who are you, and what do you do?
Kristian Griffiths: My name's Kristian Griffiths. By day I'm a software developer, but by night I'm still a software developer as it never leaves you. I do, however, draw comics in my spare time.
RJ: Who is Business Bear?
KG: Business Bear is an honest, hard-working bear just trying to get through all the corporate nonsense that comes with working for a large company. He doesn't really have need of a first name, or a surname, as his name's just Bear. Who's going to argue with him, he's a bear in a tie.
RJ: How did you come up with the idea for Business Bear?
KG: I'm not going to lie, I find it easy to draw bears. I was doodling a bear wearing a tie on one of my pads at work. I then started going into meetings with said pads and filling in speech bubbles with business-y things that I've heard throughout my career. From there I started drawing them more seriously.
RJ: How did you get into comic drawing?
KG: This is a long story and a complicated one. I picked up a pencil and started drawing. There was a bit more to it than that: I started my first serious series (Adventures with Kristian) as filler for an old friend's web comic. From there I decided to draw Further Adventures with Kristian, and then Brown Bottle Bear. From there my comics took a hiatus as I moved half-way up the country.
RJ: How does Business Bear get away with the fact that he is just a bear in a seemingly high-pressure human world?
KG: The hibernation is tough on him, as you can't just take a few months off for that. I think he gains acceptance by being a talking bear that, somehow, manages to put on a collar and tie every morning. Also when he applied for the job he brought with him his own collection of Corporate polo-shirts.
RJ: What are your favourite comic series / web comics?
KG: I hate every else's work as it's substandard. No, just kidding. I'm a big fan of Dilbert, surprisingly. Also I'm a big fan of Batman, and get most of the Bat titles. On the web my favourites are Penny Arcade and also a series called Atland (by Nate Piekos).
RJ: How does Kristian Griffiths like to relax?
KG: Spending time with my wife. Playing with my cats, snakes, lizards and (when she behaves) dog. Also I love to play pen and paper RPGs and point and click adventure games. I also have a small collection of Board Games.
RJ: What is your special skill?
KG: You know, I don't think I have one. Unless drinking cider and being able to stand up afterwards is a skill.
RJ: What advice can you offer to people starting out in drawing/writing comics?
KG: Do it! Put pen to paper, or finger to keyboard. I draw mine by hand (it shows). I'm not the best artist in the world but you don't have to be. Mimic other people's style and you'll soon find you'll
RJ: If you were stranded on a desert island, who would be your favourite Avenger?
KG: Batman. Yeah, he's DC and not an Avenger, but I don't have to play by your rules and I like Batman. At a push I'd probably say Iron Man. Thor's an idiot with a hammer, the Incredible Hulk and I have issues after Marvel's latest Hulk run, Captain America is a goody-two-shoes and Black Widow is awesome but not my favourite.
RJ: What's your favourite thing on the internet RIGHT NOW?
KG: …*shamefully* the WWE Network…DON'T JUDGE ME!
RJ: If you could ask yourself one question, what would you ask? And what would you say in response to your question? Essentially, I'm just trying to make you do my job.
KG: Hmm…If you had £1,000,000 that you can spend on something non-essential, what would it be?
Well, Kristian, that's a fine question and well thought out. I'd go to my local game shop and buy ALL THE BOARD GAMES.
---
 Big thanks to Kristian for taking the time out to be interviewed, and welcome back to The Great Escape fold.
Business Bear can be found right here on The Great Escape ( http://thegreatesc.com/tag/business-bear ), as well as being found on the Business Bear Facebook page.