Gabriel Cushing: A Fright At The Opera
Graphic Novel: £6.99
Gabriel Cushing stars in his first graphic novel adventure! The occult academic is called on to investigate the supernatural events that are occurring at the Palace Theatre as it prepares for an all new show. Soon he uncovers the murderous intentions of a Banshee, whose rage is directed at the cast, crew and audience.
Will Gabriel, and his friend Melanie Lancley, be able to stop the Banshee's horrific assaults?
—
Co-published with Hellbound Media, the new story by Mark Adams is illustrated by Amrit Birdi and lettered by Nikki Foxrobot.
Read a preview of this comic here on The Great Escape
---
Great Escapes: Volume 1
Book: 
£5.99
eBook: £2.99
A collection of fiction,  of all shapes and sizes, with the power to transport you to another time and place. From creepy horror to sweet romance, this first anthology of Great Escapes is just the thing to help you escape reality for a few moments at a time.
All of the fiction from our first year comes together in one anthology, along with new contributions from new authors, gorgeous illustrations by artist Kat Wilson and cover photography by Jeff Waye. The first print run for this volume was  funded through Kickstarter where backers pre-ordered copies.  You can read more about it on the Kickstarter Project Page! A full list of all our backers can be seen in the Hall of Awesome. Check out the full list of stories and contributors here!
Download Shifting Sands – A free sample from Great Escapes | Volume 1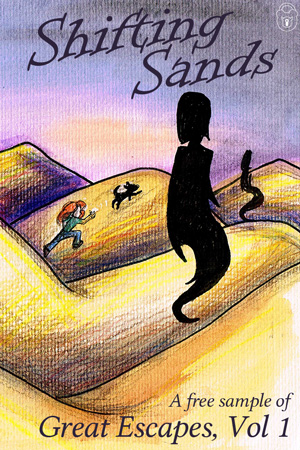 By Chrissey Harrison. Cover art by Kat-in-the-attic. Laura walks the dunes every day, but she rarely crosses the mysterious line of stones known as the spectre wall; local myths say the area inside is haunted and traps unwary travellers. When Laura's dog, Molly, runs off, Laura follows her and soon finds out that the myths might be more real than she thought. Read on The Great Escape (free) Download the epub (free)
---
The Star Coin Prophecy
eBook: £0.99 ($1.60)

via The Great Escape
Buy now on Kobo Books (recommended for epub) Buy now on Amazon (for Kindle format) Buy now on Smashwords (recommended for other formats) When local science reporter Ruth Anders gets invited to a national press conference for the Kepler project, she knows it's going to be a memorable experience. But nothing could prepare her for the extraordinary events that take place. Attacked by aliens from another world and zapped through time and space by a mysterious device, her only hope of getting home, and getting her quiet, safe life back, is explorer and archaeologist Neil Bell. When the time comes though, will Ruth really want to go back to her old life? The Star Coin Prophecy is a short adventure in a massive world. From a newly discovered planet light years away to dark jungles and mysterious ruins, it asks the question; what if the Mayans were right about the end of the world? And who's going to stop it?
---
Are you interested in publishing a book or appearing in one of our yearly anthologies? Check out our Submissions page.