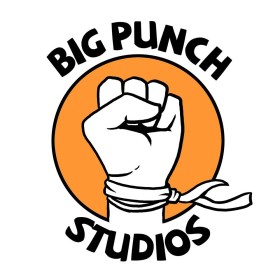 Today's Follow Friday is comics collective and all-around awesome people Big Punch Studios!
Big Punch Studios are a group of writers, artists, illustrators, designers and videographers. Made up of collaborators Nich Angell, Lucy Brown, Jon Lock and Alice White, the team have a passion for dynamic, inspired storytelling and quality content.
Individually, the team are responsible for a number of fantastic standalone series, including 7STRING and Afterlife, Inc., as well as popular webcomic Cat & Meringue.
Their first collaboration together was Big Punch Magazine, a quarterly collection of new comics from all of their standalone universes, as well as new realms The Wall, Orb and Cuckoos. Launched at the start of this year, they are currently on their third issue, but you can still purchase all of their issues on their Comicsy store.

However, their latest project is a hilarious card game based on the art of professional sandwich making, which is being funded on Kickstarter.
Named Sandwich Masters, this game involves 4 players attempting to produce quality foodstuffs to order for the general public, but with the added hiccup of every other player trying their best to foul up your sandwich with horrific ingredients, plagues of rats and unscrupulous health inspectors. Here's a video they produced that explains how it's played:
The Kickstarter for Sandwich Masters finishes next Wednesday, the 15th of October, so you'd better get your skates on if you want to get in on the high-gluten action! Click here to support Sandwich Masters on Kickstarter!
You can find out more about Big Punch Studios, as well as purchase their comics on their website, bigpunchstudios.com. You can also follow them on Facebook ( /bigpunchstudios ) and on Twitter ( @bigpunchstudios ).
---
Follow Friday is our weekly featurette where we highlight people and sites we think are worth following. Take a look at our past suggestions here.