Today's Follow Friday features novelist and comic writer Paul Cornell.
"Paul Cornell is a writer of science fiction and fantasy in prose, comics and TV, one of only two people to be Hugo Award-nominated for all three media. He's written Doctor Who for the BBC, Action Comics for DC, and Wolverine for Marvel. He's won the BSFA Award for his short fiction, an Eagle Award for his comics, and shares in a Writer's Guild Award for his television.

His latest urban fantasy novel is The Severed Streets from Tor. He lives in Gloucestershire with his wife and son."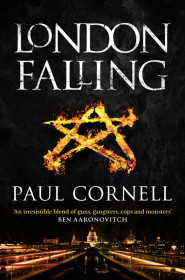 Paul is a regular at our local Sci-fi and Fantasy con, Bristol Con, which took place last weekend. We got a chance to hear Paul talk about his books during a great panel on the cross over between crime and Sci-fi/fantasy; an area of fiction he knows a lot about! Paul's current series, the Shadow Police, pits London detective James Quill and team against a supernatural underworld they are unaware of and unequipped to deal with. The series starts with "London Falling" and continues in "The Severed Streets".
What's more, Paul also started a new podcast this year, The Cornell Collective, all about Doctor Who, Sci-fi and comics. You can subscribe through iTunes.
Follow Paul on Facebook (/PaulCornellOfficial) and Twitter (@Paul_Cornell) to keep up to date on new releases and appearances.
Follow Friday is our weekly featurette where we highlight people and sites we think are worth following. Take a look at our past suggestions here.