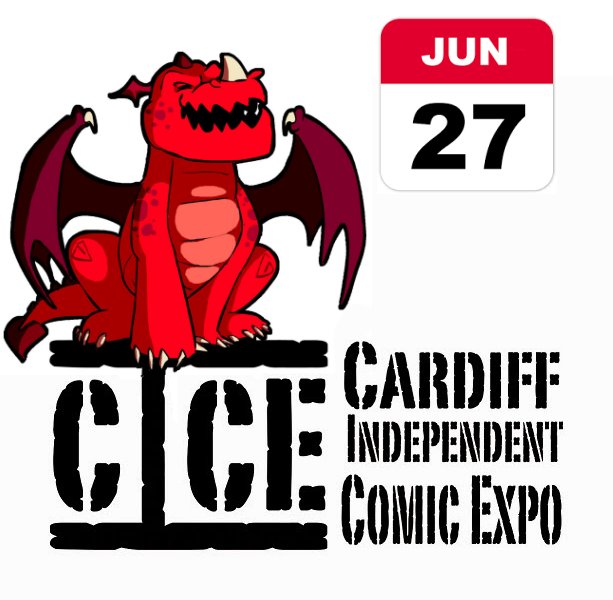 Cardiff Independent Comic Expo is coming up on Saturday 27th June at the Masonic Hall in Cardiff. With less than 10 days to go, TGE's Chrissey Harrison cornered organiser Mike Allwood for an interview about the event.
Chrissey Harrison: Hi Mike, thanks for joining us.

Cardiff Expo has been running for a few years now. What made you decide to start a comic Expo in Cardiff?
Mike Allwood: Cardiff was going to have a Comic Convention I think 5 or 6 years ago but plans fell through and I was in Cardiff on a work related trip and thought, what a great buzz in this City. I contacted Iz McAuliffe (who has co-produced all my Cardiff Shows brilliantly I may add) who I had I recall met at Bristol the year before, and, knowing a lot of the local creators from my Bristol days, the plans formed.
CH: How has the Expo evolved since you started it?
MA: Well, it grew in the first 3 years as we took more and more space in the Mercure Hotel. We added more tangents with Film and Horror, which lead to, 2 years ago, SCARdiff being a spin off run by Wayne Simmons. That ran a 2nd Convention last year.
CH: What's the philosophy behind Cardiff Expo?
MA: Promoting Welsh Small Press and the creators behind the books they produce. The promotion of the UK Small Press has always been at the forefront of my shows since Comics 99 in Bristol when I had a small press area in front of DC (who used to do the Bristol Expo).
The quality of the local talent is, I think, without peer. Check the website, Small Press are around 80% of the space at the show and for the 1st 100 fans who purchased tickets, are getting an EXpo EXclusive 64 page comic of all new material that was assembled for us. A thank you to Ana Catris for her work on that project and all the creators who came on board to make that possible
….my thanks to them all!!
CH: You took a break in 2014. Why was that?
MA: The Mercure Hotel was a great venue but after a major refurb the price for hire became sight to behold! As I have said, I like to have a high Small Press presence and that would have meant a tripling of the table hire for them and that was just wrong. The ticket prices would have risen and again I am running a ticket for a fiver with under 12's free with an adult ticket holder.
Also a change of my "day job" meant I was back to working full time, and producing a show to the standard I like to see meant I just did not have the spare time to, as my wife says, over indulging my hobby!
CH: Is that why the Expo now has a new venue at Cardiff Masonic Hall? 
MA: Yes. We wanted to run again but the venue was an issue. However Wayne had moved SCARdiff there for the 2nd Horror Con and it was superb! They have been quite wonderful in supporting the show. Getting a venue who want to run your event is key… trust me!
CH: The Masonic Hall is more a series of smaller rooms rather than a big open space? Do you think this set up works well for the Expo?
MA: Well the 3 rooms are all on the 1st floor and next to each other with the landing, which is under the control shall we say, the 501 Garrison. We are mixing the exhibitors so as to give a good cross section in the 2 rooms, and the bar is there!
The Ground floor lobby is the Dealers Room in effect and the talks / screening room is ground floor.
Remember the Bristol Expo was hosted in 2 venues! so if it rained….
CH: Yes, that was entertaining. Having everything under one roof is definitely a plus!

There are always lots of interesting panels and events happening at the Expo. What are you excited about on this year's programme?
MA: Iz McAuliffe does all the real work on the show and again she has put together a superb mix if panels. The 1st showing of the "Black Room" is an EXpo EXclusive from Chris Lynch and Terry Cooper (sorry but I love an EXpo EXclusive and we have 7 this time I recall. I've always tried to add something that you can only get at my shows, a print or EXpo Launch).
I expect Small Press, Doctor Who and 2000AD will be showcased, along with another short screening.
CH: What do you recommend guests check out in the dealer rooms this year?
MA: Everything! The mix is, I think, one of the best we have done. We have Cake as well! C'mon, be honest, what not to like?
One aspect I am really pleased with is number of female creators that we have, from EXpo loyalty Card Holder Kat Nicholson with Silicon Heart to one or two newbies who are debuting at the show.
CH: Cardiff Expo in 2012 was one of our first ever conventions. We've always enjoyed the positive and welcoming atmosphere there.
CH: What's your favourite memory from previous years at the Expo?
MA: To many to name! The overall memory is the great buzz that the show has and I hope continues to have for while yet!
CH: A lot of cosplayers dress up for the Expo. What's the best cosplay costume you've seen there?
MA: Oh c'mon!
…. you may as well ask who is my favourite daughter! There have been so many awesome cosplays and the quality and standard just keeps getting better!
This year we're trying something a little different with the Cosplay, in that rather than have a formal competition, all the exhibitors will have some "COOL COSPLAY" vouchers which they can give to whoever they think is a cool cosplayer. When they've collected 6 vouchers they can exchange them for a KRACKERS goodie bag at the Expo reception desk!
CH: Have you ever dressed up for the event? Will you be going in costume this year?
MA: That is no and no! I will again be sporting my Wolverine tie!
CH: I'm not sure I've ever caught sight of your Wolverine tie. I will have to keep an eye open for that!
So, what's in store for Cardiff Comic Expo in the future? Will there be a CICE 2016?
MA: Well as long as the city wants a show that dedicates itself to the Welsh Creators and their superb talent I am a willing conduit! And what a great excuse to visit the City!
CH: Do you think you'll be sticking with the Masonic Hall as a venue?
MA: Can't think of any reason why I would change, as I said SCARdiff found it ticks all the boxes and as I said, keeping the cost down for the creators is a MAJOR factor.
They are the heartbeat of my shows
CH: Are there new things you'd like to add for future events?
MA: Always open to new ideas! But, my own remit will always be core to what I do and have done this year.
CH: How big is the team that runs Cardiff Expo? Do you find you work well together?
MA: Small is good! Iz does sooo much work and is used to the way I work…. which is not easy!
The old saying of there are two ways to work, my way or the wrong way! That's not totally true. I'm always delighted to hear from anyone with a idea!
I am a long time Comic fan and love the medium and the shows I produce are the type I want to go to.
CH: I think that must be why so many people enjoy them! So I guess we'd better wrap up. Before we let you go, we should cover the important bits.
Where can guests get tickets for the Expo?
MA: On the website ONLY until the 21st then, IF we have a capacity, we will have a limited number on the door but not until we have gotten the pre-sales into the venue.
CH: So you heard it! Make sure you pre-book to ensure you don't miss out! Finally, how can people find out more about what's happening at the Expo?
MA: The website is up to date and the Facebook page will be updated right up to the Thursday night.
CH: Thanks so much for joining us, Mike. We're sure that 2015 is going to be the best year yet! We'll look forward to seeing you around the Expo in just over a week!
Just to remind everyone…
The Expo takes place on Saturday 27th June at the Masonic Hall in Cardiff. Doors open at 10:00 for earlybird ticket holder and 10:30 for general admission.
Ticket's are £5 and under 12s get in free with an adult ticket holder. Buy Now.
See you all there!