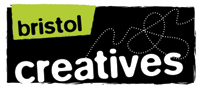 Bristol Creatives is an artist-led networking and marketing initiative for visual and applied artists in the city. This website acts as a friendly and informal meeting place and information centre for anyone interested in the arts in Bristol. 
The Bristol Creatives site features a Creative Directory with listings for all types of creatives based in the Bristol area, including artists, illustators, animators and more.
Their What's On section features exhibitions, arts trail and open studios events happening in the city, so you can check out the work of local creatives. It also features workshops and courses for those keen to learn new skills, get creative or to try something new.
Other site features include news, jobs listings and extensive resource links.
So if your work involves creativity in any form and you are interested in meeting and networking with other creative people in the Bristol area, then Bristol Creatives is one to follow. You can find them on Twitter (@bristolcreative) and Facebook (/bristolcreatives)