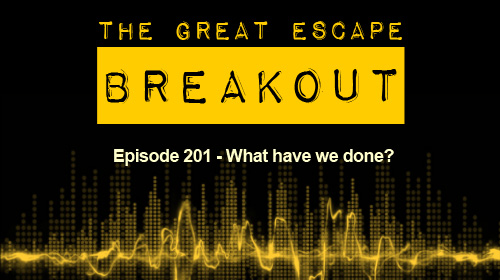 Podcast: Play in new window | Download (Duration: 30:25 — 41.9MB) | Embed
Subscribe: Apple Podcasts | | More
We're back! And what better way to start this new season of the Breakout podcast with a chat about what we've been up to… which veers wildly into the realm of why comic book films struggle with story and the concept of the 'poop sandwich'. Oh well.
Thanks for listening! Got a topic you think we should cover in a future episode of Breakout? Drop us a line on our Facebook page, https://facebook.com/TGEBreakout
Also, check out our pages on iTunes ( https://itunes.apple.com/us/podcast/the-great-escape-breakout/id1004495683?mt=2 ) , TuneIn ( http://tunein.com/radio/The-Great-Escape-Breakout-p789702/ ) and Stitcher (http://www.stitcher.com/podcast/the-great-escape-breakout )!
Mentioned in the podcast