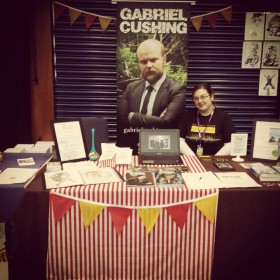 While work progresses on the animation, sound design, music and other post production tasks for Carnival of Sorrows, we're working on getting the word out about the film! The more enthusiasm we can generate among our fans the better our chance of securing an exciting distribution deal. And how are we doing that, you ask?
1. New Website
In our next update you can look forward to the reveal of a brand new section to GabrielCushing.com, dedicated to Carnival of Sorrows. There we'll be collecting together all the photos and trailers for the film and you'll be able to explore cast lists, character profiles and more. The only thing you won't find there is exclusive backer only content, which will be shared through these updates.
2. New Mailing List
We're starting up a new email mailing list for interested fans to get updates straight to their inbox! All of our Kickstarter backers will be automatically added, but you can easily unsubscribe if you prefer to get your updates a different way. The first email will be going out alongside our next Kickstarter update. If you'd like to help spread the word, share this link to direct people to sign up for email updates.
3. Social Media Overhaul
We'll be updating and improving our social media pages. There will soon be a new Facebook Page for Carnival of Sorrows and you'll see an updated look for our Gabriel Cushing Twitter account. The Great Escape is also on Instagram, Tumblr, Google+, YouTube, Vimeo, Dailymotion and Soundcloud.
4. Competitions
We'll be giving away Carnival of Sorrows merchandise to our social media followers and fans in a series of promotional contests. Kickstarter backers are welcome to take part, so make sure you follow us on Facebook and/or Twitter. The first is running right now and will be drawn on Friday!
Kickstarter backers can head over to Kickstarter for an extended update including exclusive behind the scenes pictures of how we created the world of the carnival.