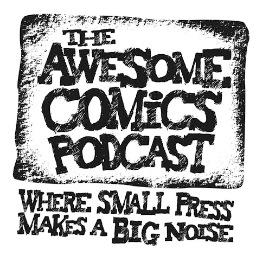 Continuing our podcast themed Follow Fridays for August, today we're recommending The Awesome Comics Podcast!
New on the podcast scene (epidode 1 came out in July), The Awesome Comics Podcast charts the quest of Vince Hunt (The Red Mask From Mars), Dan Butcher (Vanguard) and Tony Esmond (Down the Tubes) "to make a big noise of small press comics and have a good laugh while they do it!"
They've already put out six episodes. with guests including Tom Ward (Writer: The Sensational Elephant Man), Marc Laming (Artist: Planet Hulk, Kings Watch), Chris Wildgoose (Artist: Porcelain: A Gothic Fairy Tale) and Jon Lock (Creator: Afterlife Inc).
Their episodes are long, averaging out at about 1hr 40mins, so you might want to save them for a long drive or nibble at them in a few chunks, but they are packed full of indie comics news and recommendations, and even advice for small press comic creators.
For updates on new episodes, you can subscribe through PodBean, and follow them on Twitter (@TheAwesomePod) or Facebook (/theawesomecomicspodcast).
---
Follow Friday Bonus!
The ACP is hosted on combined podcast platform and crowdfunding site PodBean. You can follow PodBean on Twtter (@podbeancom) and Facebook (/podbeancom).