Our third episode of Breakout is coming out next week! To celebrate that our contribution to the podcast world is finding its feet, our August Follow Friday posts will all be about other podcasts we follow. Today Chrissey recommends Writing Excuses.
"Fifteen minutes long, because you're in a hurry, and we're not that smart."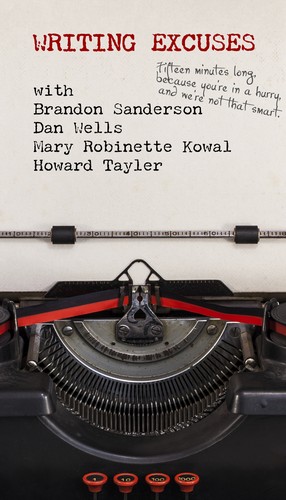 Writing Excuses has been going a long time! (Since 2008). This year, for their 10th season, they've decided to do something a little different and present the season as a masterclass in writing, from concept to completion. Each week they build on the week before and set optional writing exercises for their listeners to join in with, to guide you through the process of writing a book. Each episode is only fifteen minutes, which makes it easy to take one in while you fold the laundry, or on the drive to work.
The podcast features best selling fantasy author Brandon Sanderson, award winning novellist, puppeteer and voice artist Mary Robinette Kowal, comic writer and illustrator Howard Tayler and horror writer Dan Wells, who surely between them cover the full breadth of the writing scene. They share personal experiences, anecdotes and advice, as well as examples from other writers.
You can listen to, or read the transcripts of, all their previous episodes, and find links to all their recommendations on their website.
Subscribe via iTunes, Android or their RSS feed. You can also follow them on Twitter (@WritingExcuses) and Facebook (/writingexcuses).
Follow Friday is our weekly featurette where we highlight people and sites we think are worth following. Take a look at our past suggestions here.