Last year we exhibited at Bristol Comic Expo for the first time and what a great event it was. This year we've got a great line up of events and new releases for the two day convention.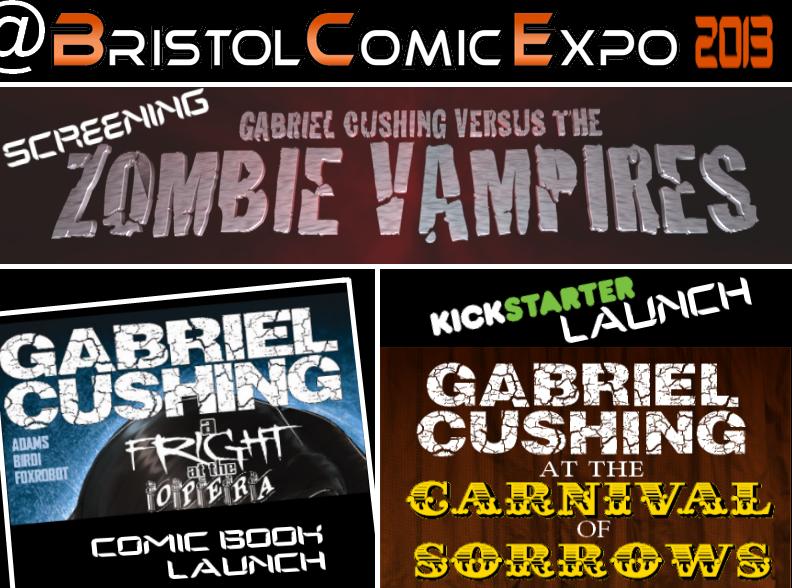 On Saturday, there's a screening of Gabriel Cushing vs the Zombie Vampires, the complete eight part web series. See it on the big screen! (No additional ticket costs; all expo visitors can watch).
The weekend also sees the release of Gabriel Cushing: A Fright at the Opera, the demon hunter's first comic book adventure. Gabriel and Melanie, investigate some mysterious happenings at a theatre and discover a resident banshee with a vengeful streak, but how can they put an end to her reign of terror so the production can go ahead?
Perhaps most exciting of all is the launch of our new Kickstarter project which will raise funds to produce the next big web series; Gabriel Cushing at the Carnival of Sorrows. Look out for more posts on this over the coming week.
The Expo will also be an opportunity for fans to get their hands on all the latest Great Escape and Hellbound Media publications, including fiction anthologhy Great Escapes, Volume 1, horror anthology Shock Value Blue, and Hellbound Media's new collaborative project, Slaughterhouse Farm, a dark and gory tale of horror.
After hours on the Saturday we'll also be arranging a Bristol meetup for anyone who wants to come along and share a few drinks. The venue for the meet up will be announced a litttle closer to the time.
Facebook users can join the event page here.
We look forward to seeing you there, so make sure to say hi.