Last weekend The Great Escape and Hellbound Media attended Cardiff Comic Expo.
Hellbound's comics were very popular with the Cardiff crowd, selling more copies than at any other convention. If you were one of those people of excellent taste who picked up a copy of Faith Healers, Kiss Me Deadly or Shock Value, pop by and let us know what you think.
The atmosphere at the expo was one of creativity and encouragement. Many comic artists sat at their tables creating beautiful custom pieces for people. Matt Warner commissioned a sketch of his character Dawn from Kiss Me Deadly by artist John M Burns, and others by Gary Erskine, Kat Nicholson and Jason Cardy. Check out Hellbound's Facebook Page to see the rest of the images.
Writers with novels sat alongside merchandise stalls and comic booths, with no sense of being out of place. I had the pleasure of chatting with Wayne Simmons (author of Belfast zombie horror novels Flu, Fever and Drop Dead Gorgeous) and Adam Millard (writer of zombie horror novels Dead Cells and Dead Frost).
Simmons contrasted the welcoming, energetic style of the convention with literary conventions where competition rather than camaraderie can sometimes prevail.
University of Wales, Newport and Swansea University both had a strong presence with students from their creative programmes showing off their latest projects. One film animation project rang bells with us as it had previously been featured at one of Bristol based CineMe's film showcase events.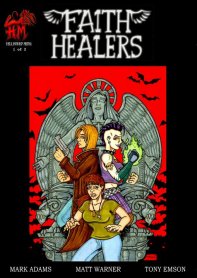 Although we were largely tied up manning our little patch, Rich and I did sneak away to attend one panel discussion on the nature and future of the horror genre where we met publisher Emma Burns of Snow Books and writer Robin Furth, who works alongside Steven King on the Dark Tower comic series. There is a related discussion topic in the forum.
If you've not been to a comic expo or convention before, consider picking up tickets for the next one near you. Even if you don't consider yourself a comic book fan, you'll find a wealth of exciting things to try out.
Hellbound Media will next be appearing at the Bristol Comic Expo on 12th-13th May 2012, where Faith Healers artist Tony Emson will be signing and sketching.